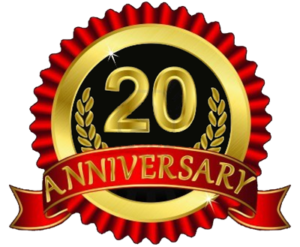 Lincoln, NE, February, 9, 2017—Hunt Irrigation, Inc., is pleased to announce that 2017 marks its 20th anniversary.  Founded in 1997, Hunt Irrigation, Inc., has positioned itself as a leader in the underground irrigation industry with a strong focus on water conservation.  Hunt Irrigation, Inc., start was modest in 1997.  When Jeremy Hunt started the irrigation company that bears his name 20 years ago, it was basically a one-man show. With the help of his wife and family, the business has grown to include 7 full-time employees and 8 to 10 seasonal workers.
Hunt Irrigation, Inc., The Water Smart Company, is a full service irrigation company offering design and build services for both commercial and residential irrigation systems.  Hunt Irrigation, Inc., also offers low voltage outdoor lighting installation and service specializing in LED lighting fixtures.  Hunt Irrigation, Inc., also offers backflow testing and snow removal.
President Jeremy Hunt has kept the focus of the company on conservation.  "The irrigation systems that we design and install use approximately 30% less water per year than a typical irrigation system.  We design our lighting systems with LED fixtures which reduce electrical consumption by 130%.  I think it is crucially important to be good stewards of the industry you work in especially when your industry is in constant consumption of non-renewable natural resources."
Jeremy has played an integral part in both local, state and national levels of water conservation.  On a local level, Jeremy is a past member of the Mayor's Water Taskforce Committee.  Jeremy also worked with the Lincoln City Council to enact the Rain Sensor Ordinance in 2007.  This mandates that all irrigation systems installed in the City of Lincoln and Lancaster County have a rain sensing device connected to the irrigation controller.  This requirement saves approximately 2,000 gallons of potable water per rain event per residence.  These water savings totals are even higher on commercial sites.  On a state level Jeremy along with the help of Gov. Dave Heineman proclaimed July as Smart Irrigation Month in Nebraska.  On a national level, Jeremy is both an EPA Water Sense Partner and an Ambassador for the Irrigation Association of America.
Hunt went on to say, "I attribute our growth and longevity to a solid client base that share our thoughts on conservation and our dedication to customer service.  Our company's focus has always been client support.  I am constantly reminding our employees that while I sign the checks, without our clients we would not have a company.  Our staff is our most important fabric between our organization and the clients we service.  From Jennifer and Teresa in the office, to Eliseo, Gonzalo, Ramon and John out in the field; These are the folks out there every day making sure that our clients are satisfied with our service.  Our associates understand the importance of professionalism, quality workmanship, and the pride of providing a positive and quality experience with our company.  I think of each of our staff members as family.  Without these exceptional employees our organization would not be the company that it is today."
"I would be remiss if I did not thank my family and our employees' families for the sacrifices they have made putting up with our long hours as we continue to grow".
"Speaking on behalf of our staff all of us at Hunt Irrigation, Inc., are thankful to our many clients for making this anniversary possible, their feedback and support has shaped our company through the years, and their faith in our ability to support them has sustained us. We look forward to continuing to serve Lincoln and our surrounding communities into the future."