Sensors and Weather Stations
Effective May 1st, 2007, all underground irrigations systems installed in the City of Lincoln and Lancaster County must have a moisture sensor installed that will interrupt the automatic irrigation during a rain event.
There are many different types of rain and climate sensors. Rain sensors are designed to interrupt an irrigation cycle during a rain event. Moisture sensors are buried in the ground and when there is an ample amount of moisture in the soil this device will stop the irrigation cycle. Weather sensors are a bit like a sensor buffet that detect past rainfall, wind speed, and freezing tempatures. Flow Clicks or mainline sensors protect your home or business by monitoring the amount of water flowing through your irrigation system. If an excessive flow occurs this device will shut down your system preventing flooding. The most complex of all the sensors are the climate sensors. These types of devices are like mini-weather stations; they calculate the (ET) evapotranspiration rate on site and automatically re-adjust your sprinkler controller run times to only apply the exact amount of water lost from the last irrigation cycle or rain event.

MINI-CLIK
THE SIMPLEST WAY TO AUTOMATICALLY STOP IRRIGATION DURING RAINFALL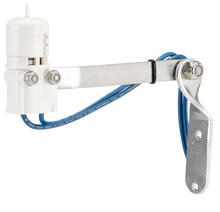 Irrigating a landscape during a rainstorm not only results in oversaturated plants and turf, it also wastes water. Hunter's Mini Clik rain sensor provides the simplest, most effective way to prevent sprinklers from running during or after any level of rainfall. It easily installs on any automatic irrigation system. The Mini-Clik stops scheduled irrigation when it detects a pre-set level of rain has fallen. This automatic process ensures landscapes aren't watered during a storm. Once the storm passes, the Mini-Clik allows the controller to resume normal irrigation. Mini-Clik is compatible with all Hunter controllers, and once plugged in, it ensures that a system doesn't water during the rain.
Features and Benefits
Easily installs on any automatic irrigation system
Debris tolerant for reliable operation and no unnecessary shutdowns
Can be set to shut system off from 1⁄8″ to 1″ of rainfall
Includes 25′ of 20 AWG sheathed, two-conductor, UL-approved wire.
Warranty period: 5 years
SOLAR SYNC®
SMART IRRIGATION CONTROL MADE SIMPLE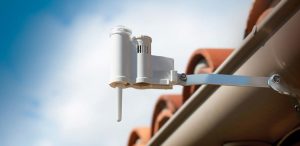 The Solar Sync ET sensor is an advanced weather sensor that calculates evapotranspiration (ET) and adjusts Hunter controllers daily based on local weather conditions. Solar Sync measures sunlight and temperature, and uses ET to determine the correct seasonal adjustment percentage value to send to the controller. The controller then uses its programmed run time and adjusts to Solar Sync's seasonal adjustment value to modify the actual irrigation run time for that day. In addition, the Solar Sync ET sensor integrates Hunter's popular Rain-Clik™ and Freeze-Clik® sensors providing quick response in shutting down your irrigation system during rain and/or freezing conditions. The Solar Sync is compatible with most Hunter controllers and applicable to residences, businesses, and municipalities alike.
Features and Benefits
Provides automated daily adjustment to program run times
Wired and wireless models available
No Water Window programming available (except X-Core)
Rain and freeze shutoff
Gutter mount bracket included
Warranty period: 5 years (10 year battery warranty for wireless model)
Weather Station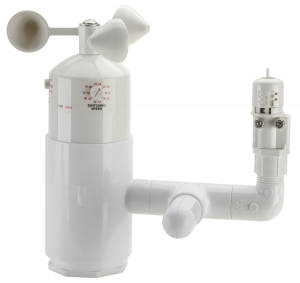 Having a climate like a smorgasbord can make for some tricky business when it concerns your irrigation system. Of course, you can simply look out the window and decide whether to turn on the sprinklers manually each day, but that defeats the purpose of an automatic system. What you really need is an automatic device that can make the decision whether there is too much rain, too much wind, or too much cold to do the watering. With the Hunter Mini-Weather Station you get each of Hunter's three different sensor devices in one single convenient unit. The Mini-Clik® rain sensor shuts sprinklers off in a storm and keeps them off, automatically compensating for the amount of rainfall that occurred. The Freeze-Clik® prevents system activation by automatically stopping the flow of water when outdoor temperatures drop near freezing. The Wind-Clik® shuts off systems during periods of high wind, then automatically resets the system when conditions are more favorable. Easy to mount (it attaches to your controller with just two wires) and easy to use, the Mini-Weather Station takes all the guesswork out of when you shouldn't water.
Features and Benefits
Easily install on any automatic irrigation system
Versatile enough to meet your particular needs
Heavy duty construction
Built sturdy for years of trouble-free operation
Shuts system off in rainy conditions
Sets from 1/8″ to 1″ based upon your local conditions
Sets to shut down system from 12 to 35 mph winds
Choose the wind speed most effective for your area
Automatically shuts off water at 37°F
Eliminates ice on landscapes, walkways, roadways
ET SYSTEM
REPLACED BY ET SENSOR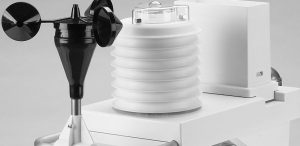 The Hunter ET System is an easy-to-add accessory for Pro-C and PCC controllers. Using highly advanced technology, the Hunter ET System measures key climatic conditions to calculate local evapotranspiration (ET) factors. ET is a measurement of the water lost from the soil surface by evaporation and the moisture lost from the plants by transpiration. The ET System will calculate irrigation schedules to replenish only the water that is actually needed for plant and soil conditions. The Hunter WiltGard™ technology can intervene to trigger protective watering when extreme conditions threaten vegetation. The result is a dramatic savings in water, healthier root zones, and longer plant life.
Features and Benefits
Calculates evapotranspiration (ET) for individual microclimate to fit the exact landscape requirements
Specific irrigation scheduling for every zone based on the characteristics of each
Enables compliance with local watering restrictions
Easily upgrades Hunter PCC and Pro-C to weather-based controllers
Non-volatile memory
Full range of scheduling options
Includes 100 ft. of 20 AWG, 2-conductor for sensor installation
WiltGard™ technology triggers protective watering when extreme conditions threaten plants
Warranty period: 2 years
SOIL-CLIK™
SHUTS DOWN IRRIGATION WHEN DESIRED MOISTURE LEVEL HAS BEEN REACHED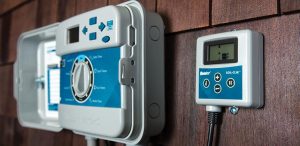 The Soil-Clik simplifies soil moisture sensing. The Soil-Clik probe uses proven technology to measure moisture within the root zone. When the probe senses that the soil has reached its desired moisture level, it will shut down irrigation, preventing water waste.
Soil-Clik has two components: A moisture sensor probe, which is placed in the soil, and an electronic module, which communicates with the probe and the controller. The probe is easy to install – simply bury it to the correct root depth for your plant material. It can be placed up to 1000 feet from the controller. Easy push button operation allows adjustments to the desired moisture level, with an immediate update of actual measurements.
The module attaches to all AC powered Hunter controllers and will work with most other manufacturers' AC powered controllers. Soil-Clik can be programmed to shut down irrigation when it senses adequate moisture.
Backed by Hunter's 5-year warranty, the Soil-Clik is an effective water-saver either by itself or as a companion with Solar Sync® for an environmentally responsive solution.
Features and Benefits
Soil moisture level and status at a glance
Shuts down irrigation when desired moisture level has been reached
One-touch override allows soil moisture bypass for special conditions
Low voltage outdoor enclosure powered by host controller
Simple installation allows probe to be up to 1000′ from controller
Connect to Hunter sensor inputs, or use to interrupt common wires in virtually any 24 VAC irrigation system
Use with X-Core®, Pro-C® and I-Core®, and ACC Clik sensor inputs
Ideal companion sensor to Solar Sync®
Warranty period: 5 years
FLOW-CLIK®
WHEN RUPTURES OR LEAKS OCCUR, FLOW-CLIK ENSURES WATER FLOW IS STOPPED IMMEDIATELY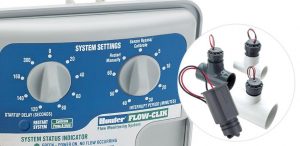 A ruptured pipe or broken sprinkler left undetected can result in substantial damage. Plants and ground cover can be flooded, slopes can be eroded, and hundreds of gallons of water can be wasted. Hunter created the Flow-Clik flow sensor to guard against these damages in the event of a rupture. The Flow-Clik can be programmed at a specified level of flow. It will shut down irrigation if it detects a flow rate higher than the programmed limit. Therefore, the amount of water loss and system damage is substantially reduced in the event of high external leakage.
Features and Benefits
Automatically shuts down system if an overflow condition occurs
Protects against flood damage and erosion
Calibration for exact system control: Single button allows each system to be programmed at a specified flow level
Works with all Hunter and most non-Hunter controllers
Multi-color LED provides system status to display when power is applied, and indicate if flow is within limits
Compatible with most commercial and residential piping systems: Large flow range provides complete flexibility
Warranty period: 5 years